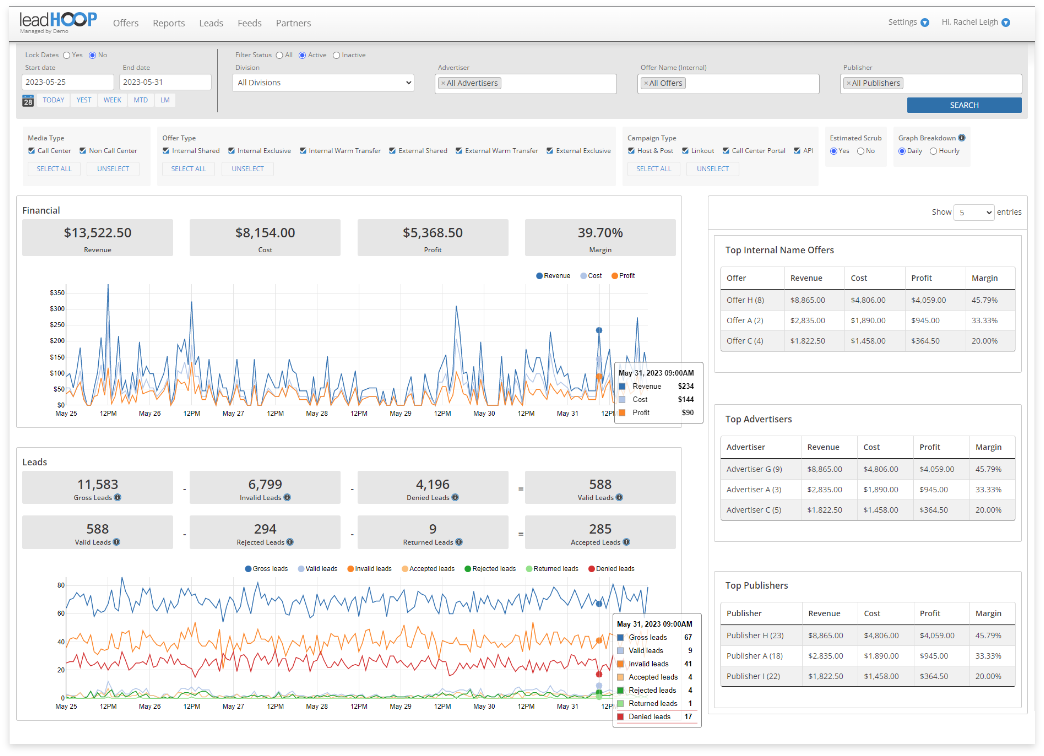 LEAD MANAGEMENT SYSTEM
For Buyers, Sellers, Aggregators and Agencies
One Platform, Many Solutions
leadHOOP's mission is to provide a turn-key solution to Buyers, Sellers, Agencies and Aggregators. Our many features allow you to easily track and manage your leads with ease.
Built by Leading Industry Experts
Our rapid growth is a testament to the significant advantage our platform provides our clients. We pride ourselves in providing a stable, transparent set of tools that our clients rely on as an important partner in the lifecycle of their lead management strategy. 
Buyer
"What I appreciate most about leadHOOP is the level of customization it provides. I can easily create and save custom filters / validations, set up automated alerts, and track my progress in real-time. leadHOOP also provides valuable insights into lead behavior and engagement, allowing me to optimize my campaigns and improve my results."
Seller
"In the past, with other platforms I've used, the onboarding process was daunting. The leadHOOP team is quick, responsive, incredibly helpful, and available when needed. They are 100% committed to seeing us succeed."
Agency
"The customer support team has been fantastic, always responsive and helpful whenever I have had questions or needed assistance. They are knowledgeable about the platform and the industry, and they have gone above and beyond to ensure that I am getting the most out of my investment."
Aggregator
"First and foremost, leadHOOP has been incredible to work with. Using the platform has created massive efficiencies in how I manage my business and the ability to optimize across campaigns in one view is unparalleled. I have seen significant increase in sales and revenue for my business, making the investment well worth it.
Want to know more about leadHOOP?
Request a demo today to learn about how leadHOOP can streamline your lead generation processes for a greater ROI.